Hace mucho que no posteo, y aunque tengo varias ideas y cosas de las que quiero hablar, llevo tiempo con ganas de hacer un giveaway o sorteo, por eso, queria preguntaros... Cuales os guataria que fuesen los premios?
It's been a long time since my last entry, and although there are many things i want to talk about, I've been wanting to do a giveaway for some time, so i wanted to ask you... What kind of prices would you like to see?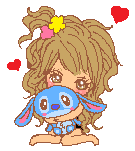 He pensado en hacerlo con maquillaje, accesorios y cosas por el estilo. No sera nada del otro mundo, ya que es el primero y no tengo muchas espectativas en el numero de participantes, para que mentir xD Aun asi, me hace ilusion hacer algo asi.
I though about giving away some make-up, accesories and stuff like that. It's not going to be something big, because it's the first one and i don't really expect many people joining, but i want to do it.
Solo por dar sugerencias, ganareis una entrada extra en el sorteo (en caso de que querais participar y seguis el blog via bloglovin). Animaos!
Only with suggesting something here you will get an extra entry for the giveaway (only if you are joining and follow my blog via bloglovin)
Aprovecho para recordar, como ya sabreis, que pronto no se podran seguir los blogs con el formato de google (no se explicarlo), asi que si quereis seguirme y entrar en el sorteo, debereis seguirme via bloglovin!!
Also, i want to remind you that from now on, blogs should be followed by bloglovin, so if you want to follow me and join the contest, it must be that way!!
Gracias por leer!